Pictures of Anniversary 2007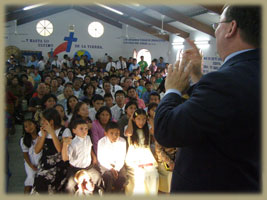 Efata Baptist Church's 30th anniversary was an incredible blessing! Friday we had a special time to honor Mrs. Velma Miller, with several pastors sharing testimonies of the Millers' faithfulness to the Lord through times of joy and hardship. Saturday we had a children's fair, with more than 100 children under 12. Everyone pitched in to help, with more than 20 different games to play, a baby donkey, a llama, hot dogs, popcorn, jello, and prizes! After the fair, Pastor Gary Martin preached on facing giants, and then all the kids got ice cream and doughnuts.
The big day was Sunday; around 600 people came and celebrated with us! Sunday afternoon was the ordination service for Pastor Jonathan Ramirez, Pastor Henry Vasquez, and Missionary Manuel Caceres. Sunday was also our wedding anniversary: 19 wonderful years!