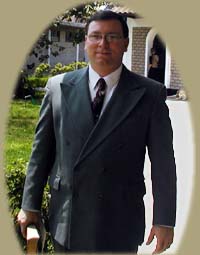 Dear friend,
I would like to thank you for visiting our website for Efata Ministries. We are a fundamental, pre-millennial, separated Independent Baptist church and mission work. Christ is the head of this church and I am His servant.
I would like to invite you to come and visit us here in Lima, Peru. Our ministry is a global ministry and we desire to reach souls; especially those of Deaf folks with the Gospel of the Lord Jesus Christ.
We have many ways in which we meet this goal such as a Christian school, a Christian home and aggressive missions and outreach programs. We train leaders to work with the Deaf and it is our desire to send these leaders throughout Peru and beyond to reach out to Deaf who otherwise would never have a clear presentation of the Gospel.
IF you have reached this site and do not have a saving knowledge of the Lord Jesus Christ, I would like to invite you to visit our Gospel page to learn how you can know for sure that you are going to Heaven. It will be the greatest decision that you will ever make in your life. May God work in and through your life as you seek his will. If I can be of assistance to you in any way, please feel free to contact me. My contact information is on our "Contact Us" page. God bless you.

Pastor Joe Kotvas